Wednesday, July 27
9:45 a.m.–6:00 p.m. (Exhibits Open)
9:45–10:15 a.m. (Refreshment Break)
3:00–3:45 p.m. (Refreshment Break)
4:30–5:30 p.m. (Exhibit Hall Reception)
Thursday, July 28
7:30–8:15 a.m. (Continental Breakfast)
7:30 a.m.–Noon (Exhibits Open)
10:00–10:30 a.m. (Refreshment Break)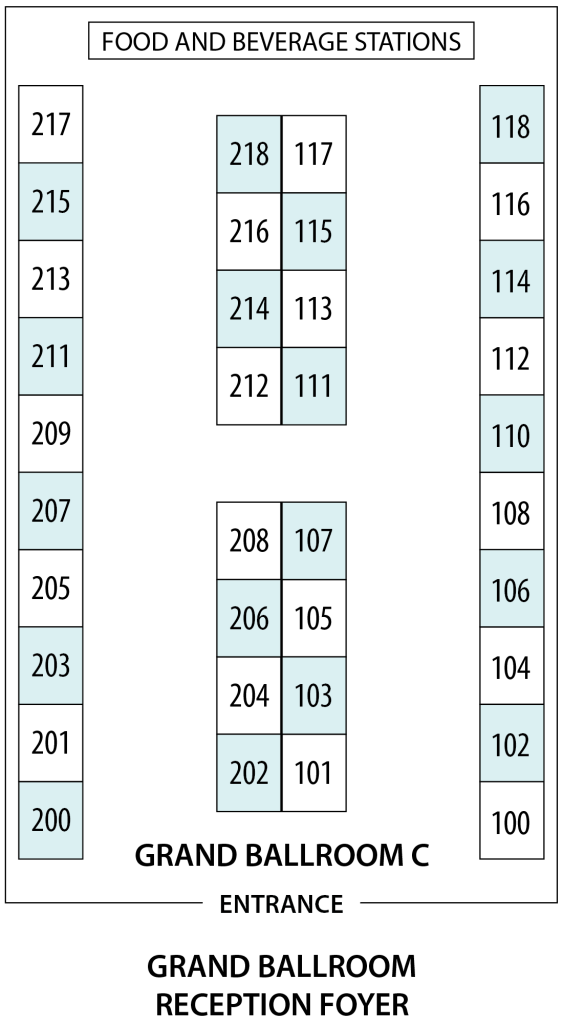 Booth 110
Amatrol, Inc.
www.amatrol.com
Amatrol is a market leader in technical education, emphasizing hands-on skills via both virtual and equipment labs. Amatrol's learning systems in advanced manufacturing, Industry 4.0, and certification preparation programs include interactive eLearning for self-directed, distance and lecture/lab programs, equipment, computerized troubleshooting, and authentic assessment.
Booth 104
American Society for Engineering Education (ASEE)
www.profiles-ctc.asee.org/
The Profiles of Community & Technical Colleges is a survey of U.S. engineering technology programs to build data tools to track the national workforce.
Booth 201
Anatomage
www.anatomage.com
Anatomage is a medical company, driving innovation through advanced solutions in hospitals and educational institutions. Our products include medical tables, surgical devices, and radiology software.
Booth 114
ATE Central
www.atecentral.net
ATE Central is a free online portal and collection of materials and services dedicated to highlighting the work of the NSF Advanced Technological Education community.
Booth 211
ATE Evaluation Resource Hub (EvaluATE)
www.evalu-ate.org
EvaluATE is the evaluation hub for the National Science Foundation's Advanced Technological Education (ATE) program. We provide open-access resources and community events on evaluation.
Booth 205
BIOMADE Manufacturing Institute (BIOMADE)
www.biomade.org
BioMADE is a new Manufacturing Innovation Institute sponsored by the U.S. Department of Defense. Launched in 2021, BioMADE is building a sustainable, domestic, end-to-end bioindustrial manufacturing ecosystem. As an independent nonprofit, public-private partnership, and a member of the Manufacturing USA Network, BioMADE has the mission and flexibility to propel new biotechnology products from the laboratory to the commercial market.
Booth 203
Biotechnician Assistant Credentialing Exam (BACE)
www.biotility.research.ufl.edu/
The Biotechnician Assistant Credentialing Exam (BACE) is an industry-recognized exam designed to assess core skills and knowledge sets identified by industry, and represented within the academic and performance standards of biotechnology programs.
Booth 200
Bismarck State College
www.bismarckstate.edu/academics/programs/Industrial%20Automation/
Automation is a key facet across many industries, BSC's Industrial Automation AAS degree is a high-tech, high-demand program developed through our NSF Automate Dakota grant.
Booth 207
Carolina Biological Supply Company
www.carolina.com
Carolina Biological Supply Company is a leader in science education, providing top-quality, innovative science curriculum and equipment to prepare students for the workplace.
Booth 113
The Center for Aviation and Automotive Technology Education using Virtual E-Schools (CA2VES)
www.cecas.clemson.edu/cucwd/ca2ves/
The Center for Aviation and Automotive Technological Education Using Virtual E-Schools, or "CA2VES," provides research-centered resources and evidence-based leadership for community colleges and the broader ATE community by designing and developing state-of-the-art virtual reality-based modules that support automotive and aviation technician education.
Booth 203
Center for Global Health Innovation
www.cghi.org
The Center for Global Health Innovation, a 501c3 at the nexus of collaboration and discovery in public health, is establishing a life sciences workforce pipeline. The National Science Foundation awarded us a grant to anchor a unified credentialing system within the industry by expanding state-level adoption of the BACE.
Booth 118
Center for Renewable Energy Advanced Technology Education (CREATE)
www.createenergy.org
CREATE's mission is to support the energy sector's changing workforce needs by championing cutting-edge energy education programs. CREATE works with faculty to provide exemplary instructional materials and curricula, promote energy careers, establish academic partnerships with industry, and address the rapidly evolving knowledge and skills required by energy technicians.
Booth 206
Center for Systems Security & Information Assurance (CSSIA)
www.cssia.org/
Founded in 2003, CSSIA works with community colleges, educators and business leaders to build successful cybersecurity programs to increase the pool of IA/Cyber Defense professionals.
Booth 106
Columbus State Community College
www.cscc.edu
Columbus State Community College (Columbus, OH), driven by educational innovation and regional prosperity, creates new innovative pathways to education for a lasting career.
Booth 108
Computing Technology Industry Association (CompTIA)
www.ncyte.net
Through education, training, certifications, philanthropy and market research, CompTIA promotes industry growth; the development of a highly-skilled workforce and a commitment to creating an environment where innovation happens and the opportunities and benefits made possible through technology are available to all.
Booth 202 & 204
Digilent, an NI Company
www.digilent.com
Digilent provides researchers, scientists, lab managers, and students with cost-optimized tools and hardware/software systems. We deliver accessibility and lower barriers with comprehensive documentation and affordable pricing.
Booth 103
Famic Technologies, Inc.
www.famictech.com/en/
Famic Technologies' new version of Automation Studio™ enables students to create, simulate and troubleshoot hydraulics, pneumatics, electrical and PLC circuits using symbols or illustrated components to enhance students understanding!
Booth 105
Festo Corporation
www.festo.us
Festo provides industrial and education solutions that prepare the workforce for Industry 4.0 careers by giving them hands-on experience they need to find jobs of tomorrow.
Booth 102
Guided Particle Systems
www.gparticle.com
GPSI develops and manufactures intelligent systems, materials, and processes that enable and inspire researchers, educators, and students in nation-critical areas such as microelectronics and robotics/automation.
Booth 215
IT Skill Standards 2020 and Beyond
www.itskillstandards.org
The "IT Skill Standards 2020 and Beyond" project works with industry leaders to identify contemporary, future-facing skill standards for the most critical IT job clusters.
Booth 111
Laser & Fiber Optics Education Resource Center (LASERTEC)
www.laser-tec.org
The mission of LASER-TEC is to develop a sustainable pipeline of qualified laser and fiber optic technicians to meet industry needs in the southeastern U.S.
Booth 212
Micro Nano Technology Education Center (MNT-EC)
www.micronanoeducation.org
Growing the MNT technician workforce by fostering academic and industry mentorship between existing MNT partners and educators developing prospective community college MNT programs.
Booth 216
Nanotechnology Applications and Career Knowledge Network (NACK)
www.nano4me.org
The NACK National Support Center for Nanotechnology Workforce Development has a mission to provide assistance to existing or developing micro-nanotechnology workforce education programs at post-secondary institutions across the United States.
Booth 209
National Biotechnology Education Center (INNOVATEBIO)
www.innovatebio.org
InnovATEBIO National Biotechnology Education Center addresses the need to educate skilled technicians for the nation's biotechnology workforce by supporting instructors, programs, and students.
Booth 117
National Center for Next Generation Manufacturing (NCNGM)
www.nextgenmfg.org
The NCNGM offers educator, student, and community initiatives through its national network of manufacturing stakeholders to build a diverse workforce skilled in Industry 4.0 technologies.
Booth 217
National Convergence Technology Center (CTC)
www.connectedtech.org
The National Convergence Technology Center works with business leadership to support colleges in creating IT curriculum; recruiting underserved students; and providing faculty professional development.
Booth 107
National Cybersecurity Training & Education Center (NCyTE)
www.ncyte.net
The NCyTE Center is an ATE National Center working to guard against ever-evolving cybersecurity threats by cultivating resources structured to align with industry needs.
Booth 214
Northeast Advanced Technology Education Center (NEATEC)
www.neatec.org
NEATEC is leading the way in developing model programs for serving the workforce development needs of nanotechnology and nanoelectronics businesses in the Northeast.
Booth 115
Preparing Technicians for the Future of Work
www.preparingtechnicians.org
This project, funded by the National Science Foundation's ATE program, addresses how to integrate cross-disciplinary skills needed by future STEM technicians into existing technical programs.
Booth 213
SC ATE Mentor-Connect (Mentor-Connect)
www.mentor-connect.org
Mentor-Connect is designed to broaden the impact of the NSF ATE program through mentoring and knowledge transfer for technician education advancement among the nation's two-year colleges.
Booth 101
Simtronics
www.simtronics.com/
Simtronics Corporation provides Operator Training Simulators (OTS) for the Process Industries and the Educational Institutions that train Process Engineers, Operators and Technicians.
Booth 116
SMC Corporation of America
www.smcusa.com
SMC is a leader in pneumatic technology, providing industry with technology and products to support automation based on the guiding principle of "contributing to automation labor savings in industry."
Booth 218
Southwest Center for Microsystems Education (SCME)
www.scme-support.org
The Support Center for Microsystems Education: 1) Provides undergraduate research and professional development for students with their faculty during week-long, hands-on cleanroom experiences, 2) Offers online short courses, educational materials, and hands-on kits, 3) Leads the Micro Nano Technology Education Special Interest Group (MNTeSIG.net and annual conference, 4) Supports integration of microsystems and biotech education.
Booth 112
Supporting Accessibility for Advanced Technological Education (AccessATAE)
www.accessate.net
AccessATE aims to increase awareness and understanding of accessibility requirements and provide guidance and solutions for ATE grantees that help achieve compliance with accessibility standards.
Booth 100
Utah Valley College of Engineering and Technology
www.uvu.edu/cet
The mission of the College of Engineering & Technology is to prepare students for successful careers or advanced study in a dynamic, technology-based global environment.
Booth 208
The National Center for Welding Education and Training (Weld-Ed)
www.Weld-Ed.org
Weld-Ed is a national partnership of educators, industry, and professional societal organizations committed to enhancing the quality of welding technician education.
Booth 114
Working Partners Project & Workshops
www.workingpartnersproject.org
Working Partners supports educators with initiating and sustaining productive industry partnerships through research, community-building, and interactive workshops that culminate in participant-crafted action plans.